Voyager Technology Pinghu manufacturing center begins operations high efficiency supply of autonomous driving solutions
2021-10-18
In order to meet the ever-changing global automotive market demand, accelerate the R&D of autonomous driving technology and the production localization, and further enhance the overall competitiveness of the company, Voyager Technology announced the official opening of the intelligent manufacturing center in Pinghu City, Zhejiang Province on May 10, 2021. The official opening of Voyager Technology's intelligent manufacturing center in Pinghu City marks another step forward in the efficient supply capacity of auto driving solutions in China. Driven by the three growth forces of national policy, innovative application and automotive industry reform, Voyager Technology is honoured to participate in the layout and rapid growth in the industry, and meet and create a brilliant chapter in the future of autonomous driving technology.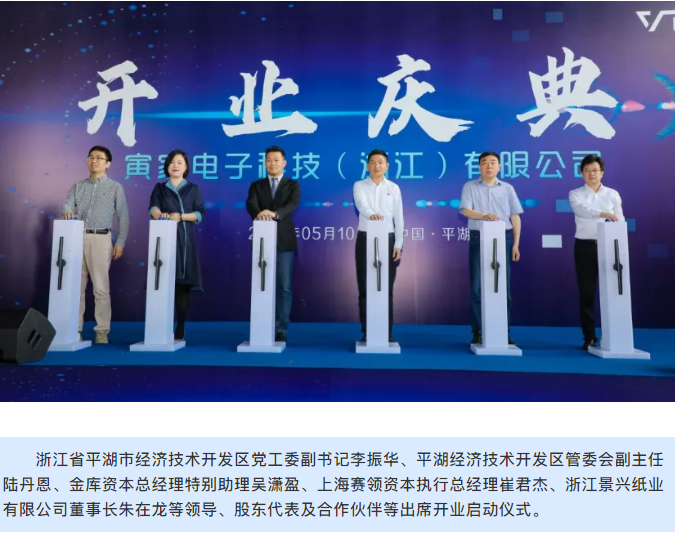 Li Zhenhua, deputy secretary of the Party Working Committee of Pinghu Zhejiang Province, Economic and Technological Development Zone, Lu Danen, deputy director of the administrative committee of Pinghu Economic and Technological Development Zone, Wu Xiaoying, special assistant to the general manager of Kymco Capital, Cui Junjie, executive general manager of Shanghai Sailing Capital, Zhu Zailong, chairman of Zhejiang Jingxing Paper Co., Ltd., and other leaders, shareholder representatives and partners attended the opening ceremony.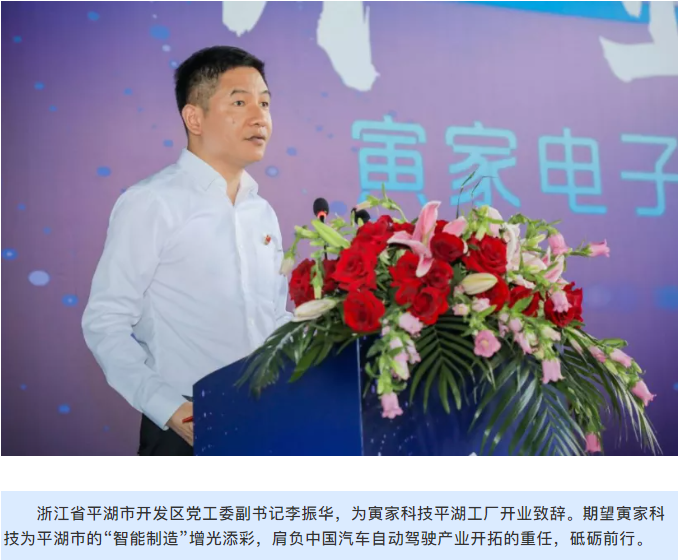 Li Zhenhua, deputy secretary of the Party Working Committee of Pinghu Economic and Technological Development Zone, and Wu Jianzhou, President of Pinghu Taiwan Business Association, delivered a speech for the opening of Voyager Technology's Jiaxing manufacturing center, expecting to add luster to the "intelligent manufacturing" of Jiaxing, shouldering the important task of developing China's autonomous driving industry, and forging ahead.
Brian, chairman of Voyager, said: "As a leading enabling enterprise for advanced driving assist and autonomous driving in China, Voyager has been working hard on this track for many years. It has made in-depth cooperation with China Volkswagen, Toyota Lexus, Chery and other well-known car companies, and has achieved hundreds of millions of output value in 2020. Today, the start-up and operation of Jiaxing plant is an important layout for Voyager Technology to cope with the development of the automotive industry, not only improving the capacity of mass production and commercialization of products. It also helps us serve our customers more comprehensively and professionally, and empower customers and users in an all-round way on the road of autonomous driving. "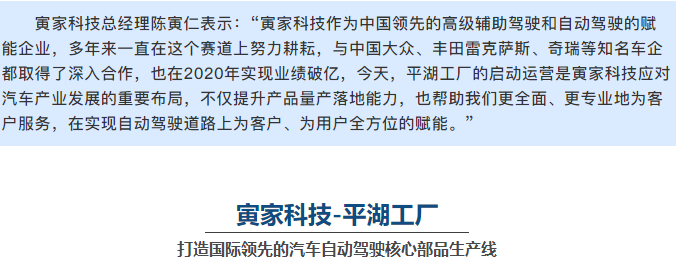 Voyager Technology -Pinghu Manufacturing Center
Build an international leading production line of core auto driving components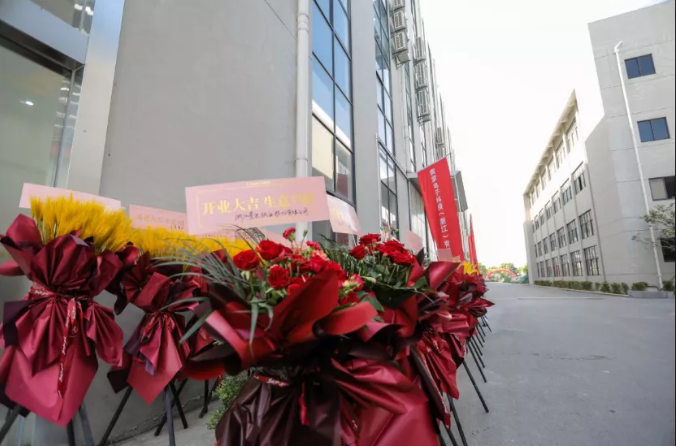 Pinghu manufacturing center has a construction area of 10000 square meters, of which 5000 square meters have been put into use and 5000 square meters of have been reserved. The total investment is expected to reach 100 million yuan. The factory mainly produces auto parts related to advanced driving assistance systems and autonomous driving systems. The products include millimeter wave radar, camera, lidar, domain controller, dash cam, around view parking system, automatic parking system, camera monitor system, etc.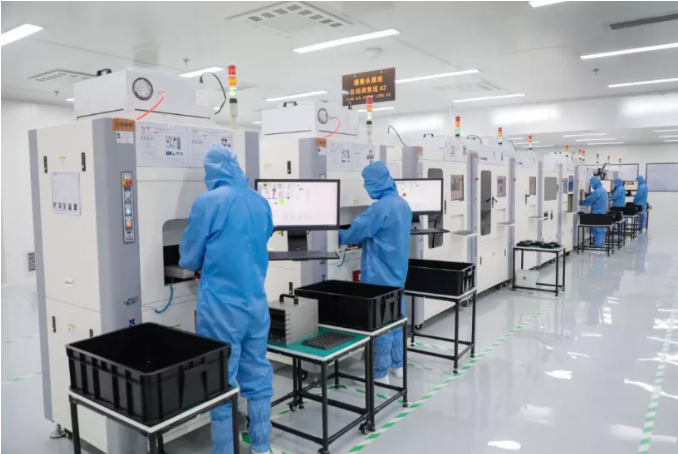 Pinghu manufacturing center installed the world's leading fully automated SMT production line, fully automated camera assembly line (AA), millimeter wave radar intelligent production line, fully automated intelligent flexible assembly line, etc. In order to ensure reliable quality, the center is equipped with top of the line, advanced laboratories in the industry. From incoming material inspection, R&D and design to production, the center is equipped with complete testing equipment for every aspect and functions.
The production workshop is equipped with class 10k and class 1k dust-free cleanrooms. The center strictly implemented temperature and humidity control standard and ESD control system, and introduced the ims5.0 system (intelligent manufacturing system, integrating mom, IOT, WMS, MES, QMS, ERP, etc.), so as to create a solid, reliable and feasible advanced manufacturing collaborative management platform and improve the overall competitiveness. Continuously strive to improve the manufacturing capacity with lower cost, higher performance and greater flexibility, and comprehensively realize intelligent and digital manufacturing plant management.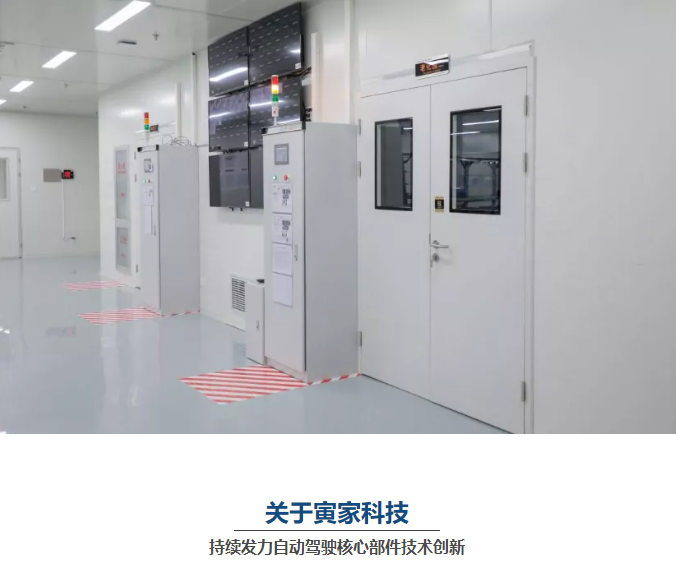 About Voyager Technology
Technical innovation of core components of autonomous driving
Voyager Technology founded in 2013 and headquartered in Pudong, Shanghai, is a high-tech enterprise integrating R&D, production, sales and service. From 2018 to 2020, the turnover continued to grow for three consecutive years. In 2020, the operating revenue exceeded 100 million, and the target was to exceed 180 million in 2021. In November 2020, it has received tens of millions yuan of investment in the A round. Voyager Technology focuses on products and technologies in the fields of sensor perception, intelligent decision-making and control execution. Its business scope covers hardware, software, algorithm and system integration, so as to improve driving safety, set an industry benchmark, create value for customers, and provide customers with safe and efficient intelligent travel solutions.
In June 2019, Voyager technology demonstrated low-speed autonomous driving and automatic parking at Chery's driverless communication conference. At the same time, it also invited Chery's technical team and test drive team to have a in-car experience, which received recognition and affirmation.
In November 2019, Voyager Technology and Chery commercial vehicles joined hands to deeply cooperate in the "Travel +" ecosystem, committed to the continuous improvement of intelligent experience, equipped with Voyager's advanced driving assistance system, and later will be equipped with higher-level autonomous driving functions.
In March, 2020, Voyager Technology launched an autonomous valet parking solution. The system solution is based on 4 around view cameras, 1 forward camera, 4 millimeter wave radars, 12 ultrasonic radars, 1 long-range millimeter wave radar and 1 ecu. The solution system uses a deep learning algorithm to realize autonomous valet parking in ground, underground parking lots, zones and other scenarios.
In May 2020, as the main technical participant, we cooperated with Southeast automobile and Volkswagen to carry out the demonstration of the "last kilometer" project under low-speed and fixed scenarios.
At present, a new round of global technological revolution and industrial transformation characterized by intelligence and networking is booming. Voyager Technology seizes the opportunity of explosive growth in the field of intelligent driving in China's automotive industry, positioning itself in the technical framework of "three horizontal and two vertical", focusing on products and technologies in the fields of environmental awareness, intelligent decision-making and control execution, and ensuring product performance and reliability based on in-depth learning algorithms. Forming a research and development, testing, manufacturing into one business system, provides customers with new autonomous driving solutions in various ways such as hardware, software, system integration or services.

Win-win future
Protecting domestic autonomous driving technology from international competition
User, customer and social satisfaction are the eternal pursuit goals of Voyager Technology. Since its establishment, Voyager Technology has been cooperating sincerely with its partners through high-quality products, complete services and good reputation to build an intelligent driving ecosystem. Facing the increasingly competitive future, Voyager Technology will adhere to the common development with its team partners, make contributions to the safe, efficient, independent, integrated and sustainable development of the mobility market, and create a win-win future.